Ms. Johnson meets Matt Caddell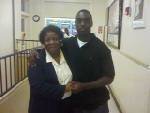 I`m shaking the hand of a St. Louis Ram!
Team Coach meets a Team Player
Ms. Johnson was simply elated that Matt Caddell spoke with the students and staff of New Horizon. The current St. Louis Rams receiver stressed the importance of making good choices to reap the rewards of life.