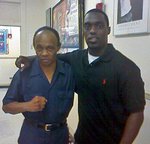 Mr. McWaine and Matt Caddell
Mr. McWaine is so proud of Matt!
After former Alabama WR Matt Caddell spoke with the students of New Horizon, he met other members of New Horizon's staff. He met Mr. McWaine, our wonderful custodian, Mrs. Miller, our great counselor, Ms. Bibbs, our Mathematics and Science Teacher, Ms. White, our Language Arts and Technology teacher, and our beloved Principal, Ms. Olivia Johnson.