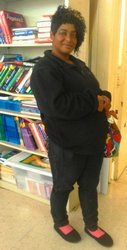 Ms. Little is one of our "Parents of the Month"
Who is coming to a school near you??!!
October is "Parent Visitation Month!" We are encouraging all parents and guardians as well as community stakeholders to visit New Horizon!!!! Ms. Robinson and Ms. Little, parents of two of our students are earning frequent visitor miles and will receive something special for their efforts....Come to New Horizon and support the students and staff!